'leave a little sparkle, wherever you go!'
we're glit af and we want you to be too!
​our aim is to create the most natural look, as if glitter grows from your roots. we want people to take a double-look as they glimpse at the fairy dust playing peek-a-boo between your locks.
​but it's not fairy dust — it's glit! a thin, lightweight sparkle that is weaved onto a single strand of healthy hair.
the material is heat-resistant, meaning you can continue using a blow dryer, straightener, curler, or other styling tools. it's hassle-free and chemical free, so it's easy to maintain and safe for your hair.  
​all you need is faith, trust (in us) and a little bit of glitter (from us)!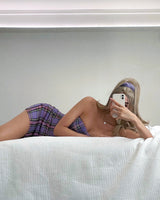 'you like my hair? gee thanks, just bought it.'
if you know glit af; you'd know if you want it, we got it.
our aim is to create the most natural look in the easiest manner. cause ain't nobody got time for a bad hair day!
remember life might not be perfect, but your hair can be with our wide range of styles and colours of synthetic hair.
now, do your hair toss and walk your fine ass out the door.

have a glit day!
x
appointments
for our glitter extensions services, appointments must be made via our setmore or instagram! do send a message if you'd like to request for our glitist, cleo kim.
for our clip-on hair extensions, you can purchase them on our e-store. but for a colour match in-store, an appointment is required. do note, a pre-order must be made and it will take approx. 3 weeks. (due to the covid-19 situation, do expect a delay in shipment.)
at first I wasn't sure if i'd like to have glit in my hair, but once i had glit in my hair, my mindset completely changed! now, i believe there's no such thing as too much glitter!

@omfgwen
i love the magic of a glit phony, especially on days when I haven't washed my hair but need to look like I styled it in 3 minutes!

@rchlwngxx
no one can tell i'm wearing extensions, it's crazy how natural it looks! people always think i have such healthy hair, but it's all glit extensions!

@reneekee
cleo does an amazing job in transforming my hair into a sea of colours! 'once is never enough, you'll get hooked on glit af'. a great option compared to dyeing your hair.

@heatheryew
glit is super amazing, i love how sparkly my hair looks like! It's still on my head even after months, though i bleached my hair a few times and straighten it daily!

@andathesea
let's glit
2 orchard turn #04-02,
coullise heir @ ion orchard.
singapore 238801.
 +6596635940   /   hello@glitaf.com